Assessment on the Management of Hyperglycemia in Type 2 Diabetes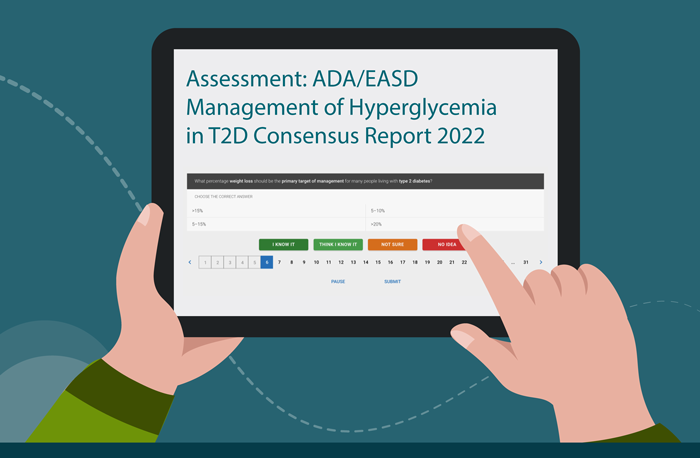 Are you ready to put your knowledge to the test?
---
Welcome to this assessment on the new 2022 Consensus Report by the American Diabetes Association (ADA) and the European Association for the Study of Diabetes (EASD).
The report, entitled "Management of Hyperglycemia in Type 2 Diabetes, 2022," provides updated guidance on the management of hyperglycemia in individuals with type 2 diabetes. The report offers recommendations on a range of topics, including blood glucose goals, medication use, and lifestyle management. In this assessment, you will have the opportunity to test your knowledge on the key points and recommendations outlined in the report. Let's get started!
---
The ADA and the EASD have launched their new consensus update on management of hyperglycemia in type 2 diabetes. The update has been prepared by an international committee of experts that include John B. Buse, MD, PhD, (University of North Carolina School of Medicine, Chapel Hill, NC); Melanie J. Davies, CBE, MBChB, MD, FRCP, FRCGP, FMedSciat (Leicester Diabetes Centre, Leicester, UK); and their colleagues. It updates the previous 2018 and 2019 consensus reports, and like its predecessors, this new document has been co-published in the ADA journal Diabetes Care® and EASD's journal Diabetologia.
---
This activity is supported by an educational grant from Lilly.
反馈